Description
Super anti-fog coating on inner lenses.
Anti U.V. Protection.
Adjustable Micrometric Buckle.
Total Vision.
Ultra Clear Skirt.
Anti Scratch.
Free nose bridge & Ear Plug 1set.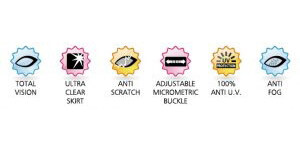 DIRECTION FOR USE : Place lenses over eyes with nosestrap at top. Gently extend headstrap over head. Adjust the length of headstrap and nosestrap position for best fit (mis-fitting causes leakage). Fit should be snug but comfortable.
MAINTENANCE : Rinse with cold fresh water after every use. Dry in shaded area and avoid direct sunlight. Store in cool dry place. The inner lenses are treated with anti-fog coating to give excellent vision. DO NOT wipe or rub inner lenses.
CAUTION :
1.Use care when putting on and removing goggles. especially when wet.
2. Discontinue use immediately if imitation or discomfort occurs.
3. DO NOT dive in water with goggles unless properly trained.
4. DO NOT pull the goggles away from face as they may spring back and cause injury.